Back to all Press Releases
Crown Prince participates in session at Tawasol forum, urges keeping up with advancements in AI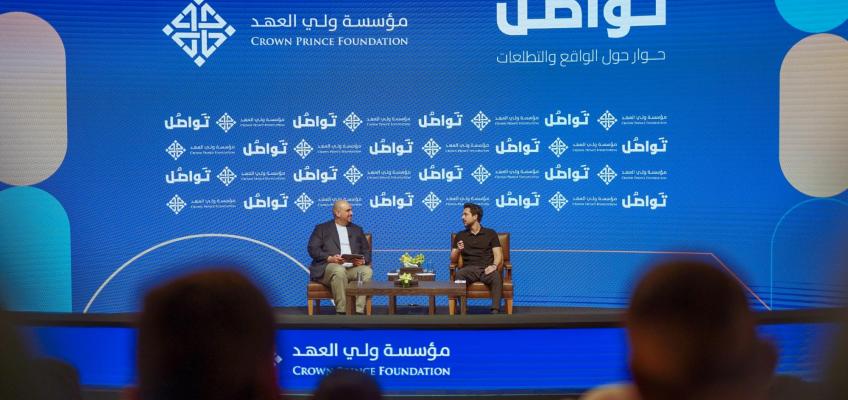 His Royal Highness Crown Prince Al Hussein bin Abdullah II on Saturday urged keeping up with advancements in artificial intelligence and developing skills to meet the labour market's current and future needs, such as analytical thinking, innovation, complex problem solving, and strategic planning.
Speaking at a session held as part of "Tawasol: Dialogue on Reality and Aspirations" forum held by the Crown Prince Foundation, Crown Prince Al Hussein highlighted the need to hone the skills of university and institute graduates, to enhance their sense of initiative, adaptation, and flexibility.
At the forum, held at the King Hussein Business Park and attended by Prime Minister Bisher Khasawneh and Miss Rajwa Alseif, His Royal Highness urged having faith in Jordanians' capabilities to achieve the nation's ambitions, which is a notion that His Majesty King Abdullah always highlights.
The Crown Prince noted that swift and efficient implementation of political, economic, and administrative modernisation will positively impact youth empowerment.
His Royal Highness called for a transformation "in the way we work, so we can work seriously and professionally in implementation and follow up", to capitalise on Jordan's serious, quality plans for the way forward.
"We must learn from the past, overcome our fears, and make a qualitative leap in our performance," the Crown Prince urged.
His Royal Highness attributed the failure in implementing many past good plans that were set to serve the public to several factors, including the bloated public sector, scepticism, or some officials' fear for their popularity.
The Crown Prince said that social and economic prosperity is largely rooted in the transparency and efficiency of public institutions, and the quality of services they provide to Jordanians.
On specialties that are no longer desirable in the labour market, His Royal Highness said graduates of these specialties face the biggest challenges in looking for job opportunities.
The Crown Prince urged youth to invest in specialties and professions that are in demand in the labour market, and to let go of preconceptions about certain professions, noting that young people have to keep moving forward to avoid despair.
"Be bold for your future. Today, waiting for the opportunity means missing it," His Royal Highness told young Jordanians.
"Youth are responsible for their future, but their right to empowerment is a responsibility that all sectors shoulder, foremost of which is the public sector," the Crown Prince continued.
"We owe it to ourselves to create a better reality, rethink our wasted resources and capabilities, and put the right talent in the right place," His Royal Highness stressed.
"In our country, we have outstanding young capabilities, and we always prove that Jordanians walk the talk," the Crown Prince said.
His Royal Highness said Jordanians' work ethics and professionalism are recognised by Arabs and people around the world, especially in the technical field, as well as in digital industries, entrepreneurship, start-ups, pharmaceutical and food industries, sports, and tourism.
The Crown Prince said it is time Jordanian values were reflected in Jordan's academic, technical and professional curricula, and better applied in the educational and professional arenas.
The forum covered several topics that cover the aspirations of young Jordanians in the fields of politics, economy, and business, in addition to social, legal, education, media, and tourism areas.
The forum saw the participation of nearly 500 specialists representing public, private, and other institutions, as well as various youth entities.
A number of ministers and officials attended the session.