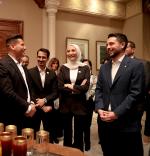 (A national program to develop the leadership skills of youth)
The Hussein Fellowship Program (HFP) is a pioneering national program with a progressive vision and a new model for promoting leadership among young men and women and integrating them within professional political, economic, and social networks. HFP aims to invest in carefully selected young men and women who can positively influence and contribute to the development process at the macro level and in their communities. The program seeks to be a transformative platform for motivated youth.
It invests in ambitious and inspired young men and women, selected based on a rigorous scientific criterion, to be a turning point and an accelerator for developing their competencies and life paths to enable them to influence their communities and benefit their country.
The outcomes of the HFP are as follows:
Take advantage of exceptional "development opportunities" with experts and trainers to accelerate the development of personal and professional paths and increase self-awareness regarding identity, leadership style, and ability to work with others
Enhance the level of local and international knowledge and dealing with decision-makers and national actors
Develop networks of youth leaders and network with local and international peers and experts
Raise national awareness and promote integration, the ability to find solutions, serve communities, and create a positive impact.
The program consists of several tracks designed to develop leadership competencies and manage them in a way that suits the specifics of each participant.