Back to all Press Releases
Remarks by His Royal Highness Crown Prince Al Hussein bin Abdullah II at the Global Forum on Youth, Peace and Security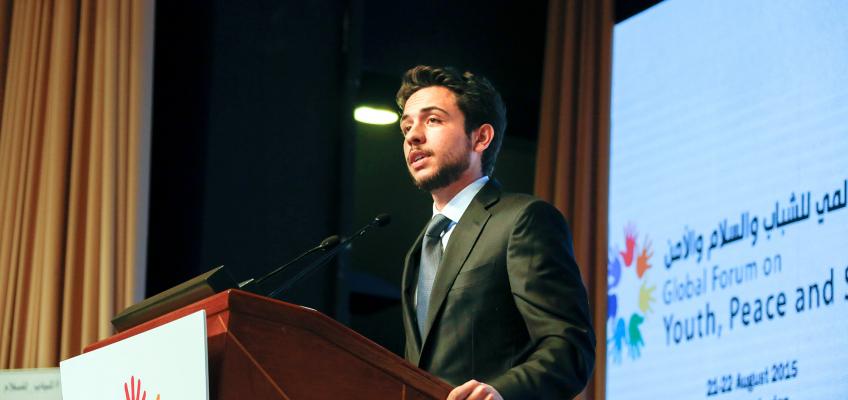 Remarks by His Royal Highness Crown Prince Al Hussein bin Abdullah II
The Global Forum on Youth, Peace and Security
21 August 2015
King's Academy, Madaba
In the name of God, Most Compassionate, Most Merciful,
Excellencies,
Ladies and gentlemen,
It has been said that "The ornament of a house is the friends who frequent it." That rings true for this house, my home, Jordan.
So, let me welcome all of you, friends, to my beloved country Jordan. And know that your presence enriches us; because while Jordan's foundations of peace and mutual respect are deep, they grow ever stronger with each new friendship.
We are proud that ours is a house that has never turned away a neighbor seeking refuge and relief; and a home for all who seek peace and progress because peace is not just a policy, not just a value or ideal, it is a human trait and it is the pillar that holds up the roof over our one global family.
Welcome to Jordan and a special thank you to our partners: the UN system and its visionary leadership, the United Network of Young Peacebuilders, and Search for Common Ground.
Brothers and sisters,
"Youth are the future"—this perhaps one of the most frequently cited statements on how to affect the future through shaping its generations, and part of the discourse of heads of states, politicians and political parties.
Those who possess the key to young minds can unlock the doors of the future. This is the strategy followed by all those who seek to shape generations, because when youth believe in a mission, they will dedicate their lives to fulfill it.
Unfortunately, if we look back on our modern history, we will find that tyrants, occupiers, and terrorists in any shape or form—including Al Qaeda and Daesh—have all exploited young people and their potential.
Has not the time come to utilise this formula to make peace? To build strong generations that won't be swayed by the slogans of those who seek to advance their own agendas, whatever they may be!
This formula has never been more appropriate, for the world has never been as young as it is today. Therefore, there has never been a greater opportunity to influence the future, especially in the Arab world, where youth under 25 years old make up around 70 per cent of the population.
Youth are the strategic asset. They are the real wealth. This is what I see every day in the youth of my country, Jordan, and in my peers around the world.
Youth are the ones most ready to dedicate their lives for the future of their country.
They are the peace builders who go to serve their brothers and sisters in disaster areas.
They are the doctors who volunteered to aid their Arab brethren in times of catastrophes in Gaza.
They are the teachers helping in refugee camps so that children are not deprived of education and knowledge.
They are the millions of youths who create networks that give unconditionally, not expecting anything in return.
These are but examples of what I have seen and experienced. This is my generation; these are the peacemakers.
I assure you that the young people of my generation do not lack the will to take action. On the contrary, they are the most aware of the challenges facing their homelands. They are the most knowledgeable of the advancements of their times; and they are the most capable of listening to the world and communicating with it because they have mastered the language of this age, with the cyberspace carrying their voice from East to West across all borders and restrictions.
This is my generation, and its youth are well-equipped to be partners in setting a future strategy that suits them.
This is why we are here today, because we have the opportunity to make a fundamental change in the future—an opportunity that we must seize quickly because youth are targeted by many, and we are in a race to win their minds.
We are in a race against agendas on the hunt for the youth's capacities to serve their own goals. We are in a race with time because our future cannot afford to waste the capacities of today's generation.
We are here to build on the outcomes of the Security Council's open session on the "Role of Youth in Countering Violent Extremism and Promoting Peace", which was organised by the Hashemite Kingdom of Jordan during its presidency of the Council in April.
We are also here to reach a consensus over a declaration on youth and their role in peace building and combating extremism.
This may be the first conference of its kind in terms of strong participation and the ability to bring together all stakeholders—from representatives of the United Nations, governments as well as national and international organisations, to the party most concerned: Young people themselves and their organisations.
But I also hope that the Forum will be the first of its kind in the tangible outcomes that it yields, realised through a genuine involvement of youth, not sideline participation or modest representation.
It is the first of its kind because young people themselves will draft the recommendations, with the support of the experts we have here with us, for what we need as young people is a space to work, not readymade templates that limit us.
This conference will contribute to creating stronger networks that seek to empower youth and give them the chance to express their ambitions and their belonging to humanity.
Our dear guests,
Today, I announce to you that Jordan will work through its membership in the United Nations Security Council for the Council's adoption of an agenda on youth, peace and security to ensure the inclusion of youth in efforts towards building sustainable peace and security. This is how we grew up here in Jordan, with the involvement of all—men and women. We built a resilient nation with the hard work of young people and the foresight of their fathers.
I have recently read a saying that caught my attention: A boy becomes a man the first time his dream dies.
Something has pushed me not to settle for this statement as is, but ask all of you here today to take on the responsibility of making it right.
Economic, social and political challenges have turned our youth into men and women capable of shouldering their responsibilities, and it is our duty to offer them an environment that nurtures vibrant, achievable dreams that can change the course of their lives; for there is no dream without hope, and hope is a fundamental right for each and every young man and woman. We are here to reaffirm this right, and to push them to dream bigger and farther every time—not only to be the largest young generation in history, but also the generation that made the world's largest leap towards peace and coexistence.
May God's blessing and peace be upon you.