Back to all Press Releases
Crown Prince launches 'Hearing Without Borders' initiative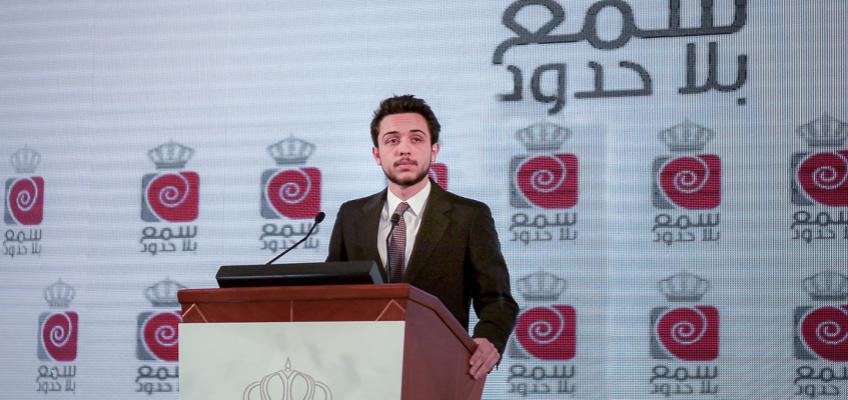 AMMAN — HRH Crown Prince Hussein on Saturday launched the Hearing Without Borders initiative, which seeks to make Jordan free from hearing disabilities and help deaf children in the Kingdom. At the launching ceremony, the Crown Prince said some 300 children in Jordan are born with hearing disabilities every year and they need help to be able to hear and speak. He added that the chance for these children to hear and speak normally is great if there is adequate medical intervention before they are six years old. "The message upon which the Hashemites built this country is that the strength of Jordan is in its people. Each person has a voice and each one's voice is heard. Together, through the Hearing Without Borders initiative, we can increase the number of voices heard to include those who were born deaf," Crown Prince Hussein said at the event in the presence of Royal family members and senior officials and officers. He added that Jordan is home to a pool of specialised experts in this field. The Crown Prince also voiced appreciation for the Royal Medical Services, the Health Ministry and the King Abdullah I University Hospital for their partnership in the initiative. He also thanked the Austrian company MED-EL for donating 30 cochlear implants for children in Jordan. According to the initiative's director, Sakher Fayez, approximately 172,000 children are born in Jordan every year. Two children in each one-thousand births have congenital hearing defects. Currently, there are approximately 19,000 deaf Jordanian citizens, he said at the event. Most of those who suffer from hearing disabilities cannot fully communicate and interact with the community although they have learned sign language, he added. The cost of education and rehabilitation per person is JD6,000 per year. The cost of one cochlear implant and the subsequent rehabilitation process stands at JD16,000 and will allow the child to fully communicate with the community, according to Fayez. The Hearing Without Borders initiative seeks to provide all support and assistance for the rehabilitation of deaf children who receive cochlear implants, to provide the needed language therapy and training for these children after their surgery and to create community awareness in the cause of deafness. The plan also aims to establish rehabilitation centres in all areas of the Kingdom for children who receive cochlear implants to enhance their speech and pronunciation. It also entails the training of rehabilitation specialists, along with parents of children who receive cochlear implants to help their children to speak, and includes conducting a survey to identify the cases of hearing disability and ways of treating these cases with the support of the public and private hospitals. It also features a mandatory screening of hearing at birth and adding the results to a regularly updated database. 
Hearing Without Borders is seen as a continuation of efforts that started upon Royal directives in 2003. So far, according to officials, more than 500 children have benefited from these efforts, which were crowned Saturday with the launch of the new version of the programme. Ziad Abu Sharia, a father of five and whose youngest son was born with a severe hearing disability was grateful. His son, Ammar, was born in 2001 and it was only in 2004 that he underwent a cochlear implant. "The cost of the operation was huge. I could not afford it at all. In the three years after his birth, we were not able to communicate with Ammar," Abu Sharia told The Jordan Times. Ammar underwent a surgery free of charge and is now communicating normally with people around him, the father said. Ammar is now a happy and normal 8th grader. The Irbid resident said: "I do not feel different than others. I am good at school, I participate in activities and I have lots of friends with whom I spend leisure time." 
"I rely a lot on him. I send him to buy the groceries and he is more confident in himself now," his mother said.