Back to all Press Releases
Crown Prince attends part of National Economic Workshop sessions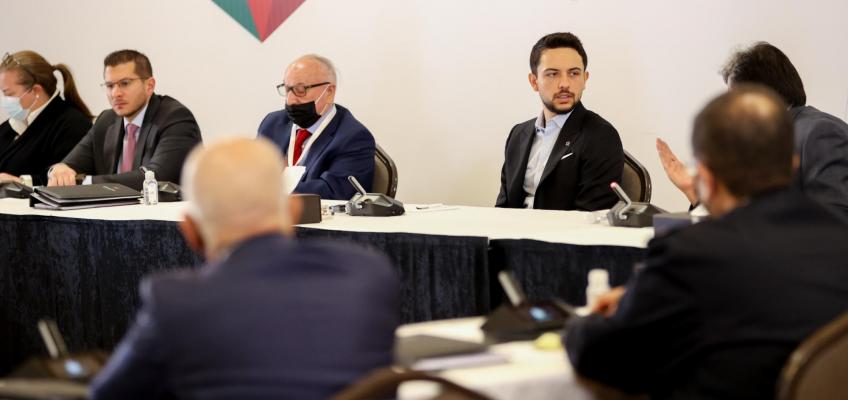 His Royal Highness Crown Prince Al Hussein bin Abdullah II on Wednesday attended part of the National Economic Workshop sessions, held at the Royal Hashemite Court under the theme "Advancing into the Future: Unleashing Potential to Modernise the Economy".
Crown Prince Al Hussein attended sessions on transportation, tourism, financial services and markets, and trade and e-commerce, and listened to participants' views on their sectors for the upcoming period, and their proposed solutions to key challenges.
His Royal Highness highlighted the importance of partnerships in the efforts to reach clear and tangible outcomes that reflect positively on Jordanians.
Participants in the transportation sector said it supports other key economic sectors but has been facing challenges. However, they expressed hope in the sector's future and its ability to overcome challenges, calling for capitalising on renewable energy sources and smart technology in public transport.
On tourism, participants said the aspirations for this strategic sector are to attract foreign investments, by investing in the Kingdom's points of strength as a niche tourism market, highlighting efforts to further promote Jordan as a destination for medical and religious tourism, as well as ecotourism, and to invest in the sector's robust infrastructure while utilising the latest technology.
Participants in the financial services and markets sector said their work, upon Royal directives, seeks to enhance job opportunities, support the middle class, and improve the livelihoods of Jordanians, with discussions focusing on identifying challenges, growth priorities, and means of achieving progress in the short and long terms, citing this sector as an enabler for other economic sectors.
For their part, trade sector participants said the majority of workers in this sector are Jordanians, and highlighted plans to capitalise on Jordan's strategic location and its regional and international relations, in addition to setting a strategy for exports, developing logistical services, and moving forward with e-commerce, citing plans to double the volume of the sector and provide 120,000 jobs for Jordanians over the upcoming 10 years.
During Wednesday's sessions, participants in the transportation, tourism, financial services and markets, and trade sectors completed their discussions of the final recommendations for each sector, reviewing the output of previous sessions to incorporate it in the sectoral recommendations within the comprehensive vision for the national economy for the upcoming 10 years.
The workshop, launched in late February upon Royal directives, brings together nearly 400 economists and experts, representing the private sector, industry and commerce chambers, the government, Parliament, academia, public institutions, civil society, and the media.