Back to all Press Releases
Crown Prince visits Civil Defence Directorate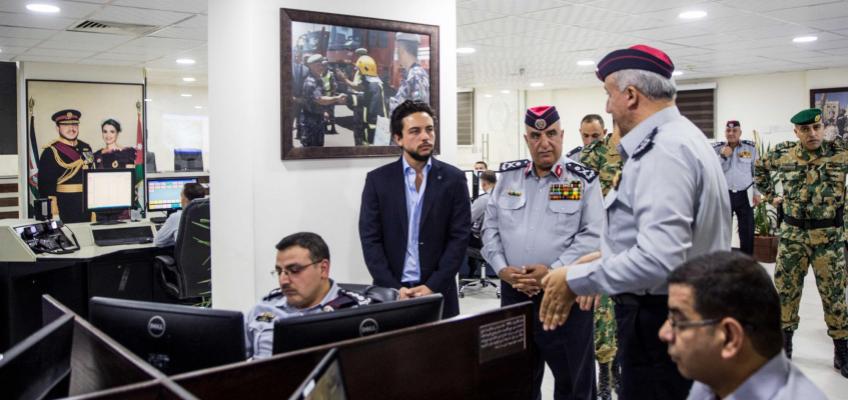 His Royal Highness Crown Prince Al Hussein bin Abdullah II visited the Civil Defence Directorate on Wednesday and checked on the CDD's preparations to deal with potential weather emergencies this winter and mitigate their impact.
Crown Prince Al Hussein called for continuing efforts to develop and modernise the CDD to enhance the services it offers, in line with its humanitarian mission to ensure public safety.
During the visit, His Royal Highness met with CDD Director Maj. Gen. Mustafa Bazaiah, who presented a briefing on the Directorate's strategy and development plans, including the opening of new CDD centres and providing them with qualified personnel and the latest equipment.
The Crown Prince praised the advanced level of the CDD and its personnel.
His Royal Highness also toured the CDD's command and control unit, and was shown the latest technology and the advanced telecom systems used to ensure maximum efficiency in dealing with major incidents.
The Crown Prince was briefed on the command and control bus, which is equipped with advanced telecom systems to function as a mobile operations room that monitors fieldwork through a camera drone.
Also during the visit, His Royal Highness was shown the machinery and equipment used to train civil defence volunteers in the Jordan 4x4 Club, which were provided as a grant from the German Federal Agency for Technical Relief (THW).
The Crown Prince, in the presence of German Ambassador to Jordan Birgitta Siefker-Eberle, was briefed by the chairman of the club's board of trustees, Senator Hussein Majali, on the equipment and the Jordan 4x4 Club's voluntary activities.